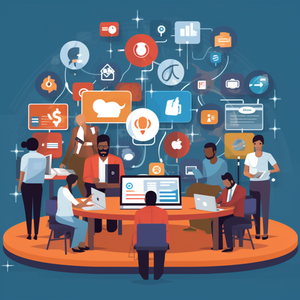 In today's digital-dominated era, a strong presence on platforms like X (formerly known as Twitter), Facebook, Instagram, LinkedIn, and Google Business can substantially elevate your brand's reach and reputation. Enter the Audience Magnet Suite by Corp USA.
This suite isn't just about standard social media management; it's a strategic powerhouse designed to transform your brand's online footprint. For just $250 a month, our dedicated team will manage two platforms of your choice from the aforementioned list, ensuring that the content not only resonates but also produces tangible results.
See a marked increase in engagement, nurture a loyal community around your brand, and establish genuine connections with your audience. As we streamline and bolster your online strategy, the Audience Magnet Suite promises to pull your target demographic closer than ever.
And if you're on the fence, our 14-day FREE trial should tip the scales. Experience firsthand the significant digital momentum that the Audience Magnet Suite can provide.


Core Features of the Audience Magnet Suite:
Diverse Channel Selection: Our suite is compatible with a wide array of leading platforms, including:

X (formerly known as Twitter)
Facebook
Instagram
LinkedIn
Google Business

Tailored Management: You have the power of choice. Select any two social channels from the list above, and let us do the heavy lifting. Our service includes:

Professionally crafted posts that resonate with your brand's voice and vision.
Strategic scheduling to ensure optimal engagement.
Targeting precision to reach your desired audience seamlessly.

Quantifiable Deliverables: With our service, you receive:

2 weekly posts per selected social media channel—8 unique posts in a month.
Each post is then refined and retouched specifically for the individual platform of your choice, effectively doubling your content to 16 tailored posts monthly.
Exclusive Limited-Time Offer: Begin your journey with our 14-day FREE trial available solely on this page. It's not just about posts; it's about a crafted digital narrative, and we want you to experience its power first-hand.
Starting at just $250, let us transform your brand's digital trajectory. Sit back, focus on your core operations, and watch as Corp USA's Audience Magnet Suite crafts a compelling digital story that resonates, engages, and converts. Don't miss out; opportunities like this don't linger. Seize it now.